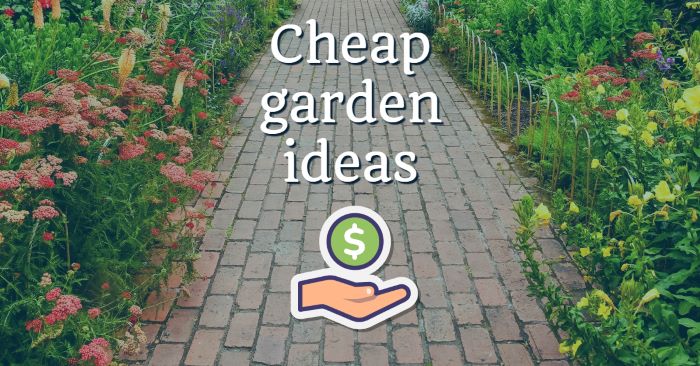 Decorating your outdoor spaces can be expensive, but luckily, there are plenty of cheap ideas for garden design. Think beyond raised garden beds and expensive annual planter boxes - many of the best budget garden ideas can utilize existing plants or perennials to save money year after year.
Plant fast-growing climbers or use one stand-out specimen
Climbing plants can easily transform an outdoor space, whether you grow them up a modern garden trellis or against your fence. Favorites like clematis, star jasmine or climbing roses are quick-growers and will make a dramatic impact. You can also create a climbing vegetable garden with cucumbers, peas and tomatoes.
Rather than paying an engineer for fences or dividers, invest in hedge plantings and climbing shrubs. You can also use large statement plants to define borders and improve garden privacy.
Plant shrubs & herbs for year-round interest
Keep a mixture of high-quality perennial shrubs for both summer blooms and fall foliage. Perennials will come back year after year, helping you save money at the garden center while providing year-round beauty. Some affordable and low-maintenance options for outdoor perennials include Sweet Box, Sedum and Viburnum.
Growing your favorite plants in pots also gives you the freedom to bring them indoors for winter. This strategy applies not only for flowering plants, but also herbs and shrubs.
Create a beautiful garden display wall
Brighten up an outdoor terrace or garden space by using vertical surfaces for decoration. For a fun garden project, attach weather-resistant shelves or wooden pallets to your fence or walls. Then, add hanging baskets, small plant pots and garden accessories for a creative finishing touch.
You can also use your display wall for solar lights, lanterns and other accents perfect for summer garden parties.
These are only a few of many DIY garden ideas you can use as inspiration to create a fantastic outdoor living space for less. By focusing on the right types of plants and high-quality features, you can make your garden the best it can be.